Analyzing & Sampling Solutions by Behbood Farayand Group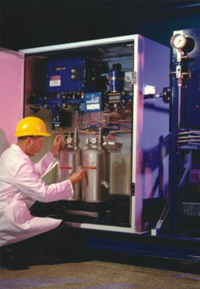 All highly accurate metering systems require high quality measurement tools in the category of sampling and analyzer instruments to provide a comprehensive view of the process Fluid characteristics. Integration of these measuring tools into the system is the key solution to reach maximum possible accuracy in the desired application, whether it is stand alone or mounted into any specific System itself.
Behbood Farayand Group is your one stop supplier for Analysis instruments and Sampling Systems for Process industry from reputable manufacturers in variety of categories including:
Density Measurement Systems
Oil in water Analyzers
BS&W Analyzers
Water Cut Meters
Viscosity Meters
Vapor Pressure Analyzers
Chromatograph Systems
Other type of analysis equipment in the field of Water & Waste Water Industry include:
Monochloramine Measuring Systems
Free Chlorine Measuring Systems
Total Chlorine Analyzers
PH, OPP, Conductivity, Turbidity. Dissolved Oxygen Analyzers
High-temperature TOC analyzers
Continuous real-time wet-chemical TOC Analyzers
Nutrients Measuring Systems
Metals Colorimetric Analyzers
Water Samplers
Our Engineering Team will follow up complete project steps from initial Design & instrument selection up to Final integration and Installation.