Safety Solutions by Behbood Farayand Group

Flame Arresters Valves Tank Equipment
Behbood Farayand Control provides wide range of Flame Arresters – Breather Valves - Tank Equipment from esteemed manufacturers, becoming one of the leaders in Tank equipment.
The products are installed by industrial users for a wide range of applications: in tank farms for flammable liquids in industrial and military applications; in chemical and pharmaceutical processing facilities; in vapour combustion plants; in biogas, landfill gas and wastewater treatment facilities; in ship building; on oil platforms and in loading and unloading facilities.
Flame arresters are subdivided into different types depending upon the combustion process (Endurance burning, Deflagration, Detonation and the various sub-groups) and in accordance to the installation (in-line, end-of-line, in equipment).
Master types are:
static dry flame arresters
static liquid seal flame arresters
dynamic high velocity flame arresters
pressure and vacuum relief valves have weightloaded or spring-loaded valve pallets. When there is excess pressure in the tank, the pressure valve pallet guided in the housing lifts and thereby releases the flow into the atmosphere until the pressure falls below the set pressure. The valve then recloses. The vacuum side of the valve is tightly sealed by the additional overpressure load. When there is a vacuum in the tank, the overpressure of the atmosphere lifts the vacuum disc and the tank is vented .
In principle, the diaphragm valve, which is loaded with liquid (as a weight), and the pilot-valve, which is self-controlled, operate in the same manner.
Ultimate protection against Overpressure
BFC . providing offer from the leading manufacturers of PSV who supply wide range of Safety valves in all applications for steam, gases and liquids .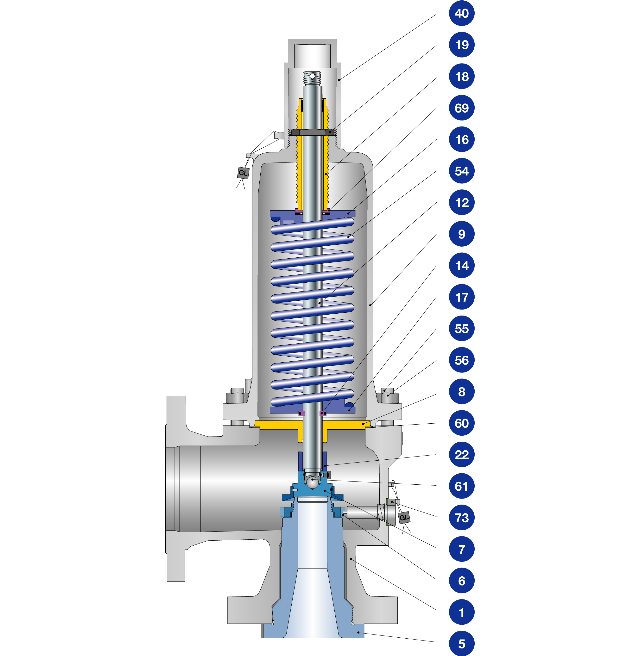 Pressure Safety Valve (spring loaded )
Complete API 526 range , valve sizes 1" through 8" , Orifice D to T
0.12 bar - 413.8 bar | 2 psig - 6,000 psig
Thermal Relief Valve
DN 15 - DN 40 | 1/2" - 2"
0,1 bar - 850 bar | 1,5 psig - 12.328 psig
Pilot Operated Valve
DN 25 - DN 200 | 1" - 8"
2,5 bar - 63 bar | 36 psig - 1,480 psig
Rupture disc
Tension Loaded Bursting disc ( ¼" – 56 ", DN6 - 1400)
Reverse Buckling Pin disc (1" – 32" , DN25 - 80 )
Materials: WCB,WCC , CF8M,WC6,LCB,LCC and wide range of special materials of critical
100% Compatibility to API 526
Flange connection according to ASME and DIN